I'm going back to Cali. Cali. Cali.  Ah, yes. West Coast bound, I will be in a little over a week for the kick-off of Storage Field Day 18 (SFD18).  
If you're an aspiring #extracreditkid like me, getting an invite to be a Tech Field Day delegate is the pinnacle of awesomeness. Of course, you say "yes." You kinda feel like Andie from "Pretty in Pink" when Blane asked her to the prom (before he ghosts her like a d-bag).  Have you been hoping that you'll be asked to the next TFD? No need to pine for the invite – take charge and apply!  Stephen Foskett has said countless times (both on and off camera) that he gives preference to first-time delegates.  Hope to see you there!
This Storage Field Day will be my third.  As always, I'm excited and beyond grateful. I'm at peace with that "not the smartest person in the room" feeling that Jon Klaus (@JonKlaus) described in this blog post. After all, who doesn't want to become a better version of themselves (even if it means a little discomfort along the way)? I try to do a little SFD prep, though.
Because the vendors are frequently repeating presenters, the existing Tech Field Days videos are always a great resource.  The videos are an excellent resource PERIOD.
Here's a list of presenter-related content that I hope to check out before #SFD18.  
Cohesity
Datera
NetApp
StorPool (First Time Presenter)
WekaIO
Western Digital
Note;  There is an inverse relationship between my familiarity and the number of resources that I've listed.  For instance, I have minimal links listed for NetApp because I'm well-acquainted with their portfolio (@NetAppATeam perk).
For this particular SFD, I love that a couple of the vendors, like Datera and NetApp, presented a few weeks earlier at Tech Field Day 18.  These vendors have an excellent platform for continuing their stories at this SFD.  A "Secret Company" is also on the schedule.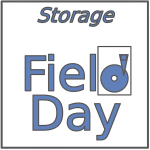 SFD18 sounds pretty awesome, right?!  Have no fear; you too can join in on the fun.  Check out Storage Field Day 18 on Wednesday, February 27 – Friday, March 1.  It's live-streamed on both the Tech Field Day and Facebook pages.  Also, the Twitters should be alight with #SFD18 conversation.